"MY OLD KITCHEN was very limited, very dark, very antisocial," says Janette O'Keeffe, describing her home before she made some changes last year. 
"I had always wanted it to be the place where everyone came to, but it never quite worked out. It didn't have a place where friends could naturally sit and have a cup of tea." 
This had an impact on the whole house in Fermoy, Co Cork, which she shares with husband Tony and their two sons Nathan, 9, and Morgan, 7. "It was all very disjointed," she says. "It was a home with a lot of heart… but it didn't have a heart of the home."
So last year, she decided to take the plunge and invest in a new kitchen. "It's something that I've been thinking about and dreaming about for close on 17 years," she says. 
She started out with a very clear wishlist.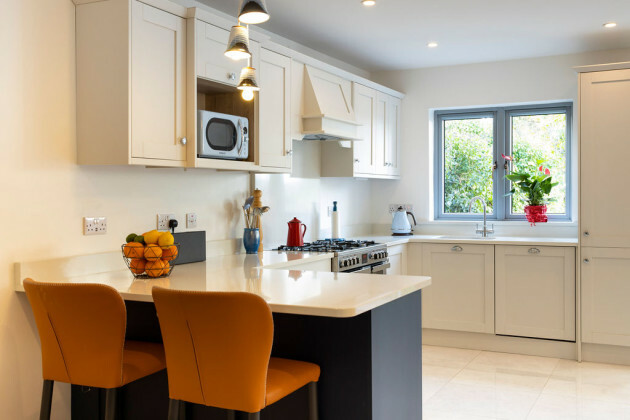 Janette's bright and airy new kitchen, as it is today

Source: Cathal Noonan
Janette's Kitchen Wishes
Lots of well-organised storage: "In the old kitchen, things were everywhere. The corner cupboard was a huge bugbear – if I needed one thing I'd be on my hands and knees taking everything out. And I wanted a proper food pantry."
A design that matched her vision: "I wanted a white Shaker kitchen with silver hardware, and with an accent in navy blue. I knew exactly how it was going to look, down to the sockets."
Space for the whole family to be together: "A table we could sit around, a bright, airy and comfortable space for everybody. I'd always wanted bench seating – with small children, a lot more can fit in a bench seat."
To start with, Janette reached out to several different suppliers, but Cash & Carry Kitchens quickly rose to the top of the pile, she says. "When I called Cash & Carry, I was offered an appointment the very following day," she says. "Other companies would have been a week, or a month even. I've always grown up hearing their name, and their manufacturing is based in Cork as well – that was a big plus for me."

Before: Janette's "limited, dark, antisocial" kitchen

Source: Janette O'Keeffe
Cash & Carry Kitchens designer Sharon O'Mahony was the person who took Janette's first call, and set up a design consultation. With 27 years of experience in the company, Sharon was well positioned to help. "I listen to my clients, take their wish list, and between us, we make their dreams a reality," she says.
Armed with the wishlist above, the pair set about designing a room that would answer all of the family's needs. Sharon arranged the different elements together while Janette watched on the computer screen. "I could see every single thing she did," says Janette. "I was sitting there and I could feel the excitement building inside me. I was thinking, this is it, this is my vision."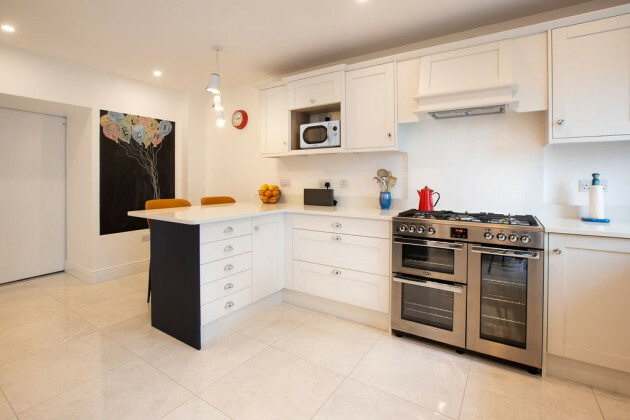 Counter seating creates a natural space to chat over a cup of tea

Source: Cathal Noonan
Quickly, the new room began to take shape. ("Very, very quickly it was built in front of me," says Janette.) As well as matching the look and style of Janette's vision, Sharon's design incorporated a number of clever solutions to the existing problems. 

At a stroke, the Fly Box solved Janette's tricky corner issues

Source: Cathal Noonan
To deal with the tricky corner cabinet, they incorporated a Fly Box – a new type of unit pulls completely out of the corner, running on high-grade tracks and hinges so that even heavy items slide out without fuss. "It's fantastic, it's taken so much stress out of the corner," says Janette. "Everything just slides out towards you – and then a little push and it goes back in." She even uses it for cast-iron pans. "It's transformed the whole kitchen, everything is just there at your hand."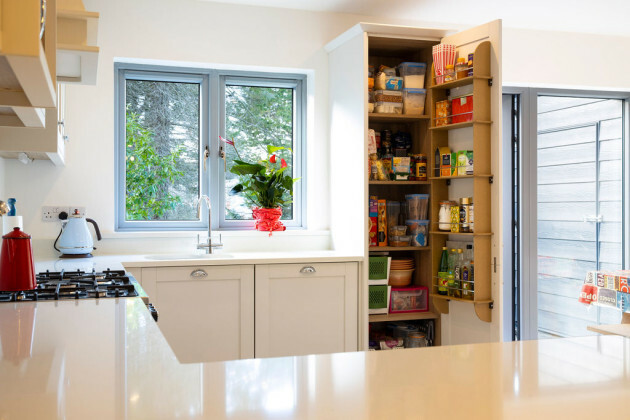 A full-height food pantry provides instant access to daily essentials

Source: Cathal Noonan
To add well-organised storage, Sharon found space for a full-height food pantry, with racks on the inside of each door. "I love my food pantry," says Janette now. "I have shelving on the inside for my teas and coffees, there's so much space inside in the cupboard. Everything down to the soft close features of the doors, the handles – it is so comfortable to use."

Bench seating provides a space for the whole family

Source: Cathal Noonan
And to create a place for the family to be together, Sharon designed a bespoke bench seating area, with large pull-out drawers underneath where the boys can store their toys. "It's very sociable," says Janette. "We've done a lot of board games and activities at the table, it's actually brought us all closer together."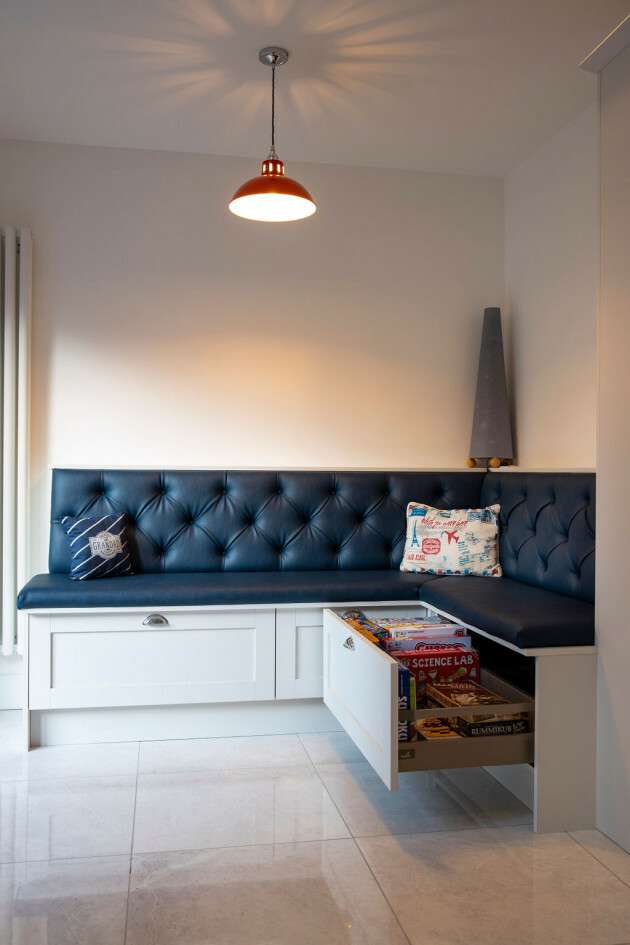 Pull-out drawers beneath the seats mean toys can be safely stowed

Source: Cathal Noonan
As a designer, Sharon prides herself on listening to her clients' needs. "Janette said that she needed more storage; that she wanted to be able to entertain family; that her kids needed to do their homework in the kitchen," says Sharon.
To refine what Janette really needed, the designer suggested imagining different scenarios in the kitchen. "I talked her through working in her kitchen, and gave her solutions," says Sharon. "I said, picture yourself making Sunday dinner. Picture yourself at Christmas with the whole family around you. Picture yourself at a birthday party, with everything set out on the table."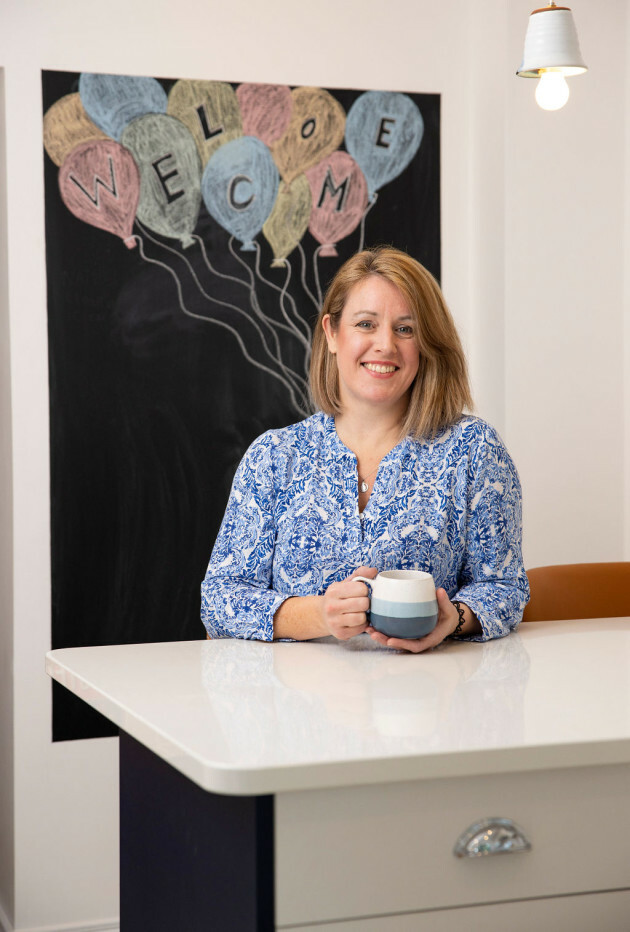 Janette at her new kitchen counter

Source: Cathal Noonan
The results speak for themselves – Janette's kitchen is now a bright, airy and beautiful space that works hard for her family. "It's become that heart of the home," she says. "I find my boys will set the table, they'll come and eat at the table. It's made a huge difference to our lives."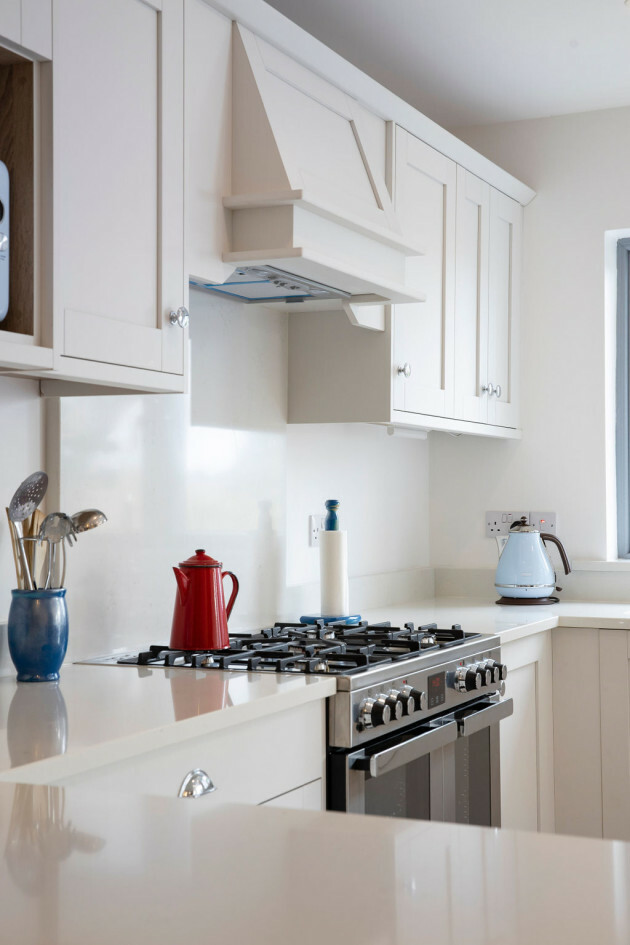 This closer image shows some more detail

Source: Cathal Noonan
But it's sharing it with others that can really bring the scale of the change home, says Janette. "My friends – their jaws drop. I couldn't praise Cash & Carry Kitchens highly enough. Everything, the whole crew from the delivery guys, to the installers who gave me more advice and tweaked little bits to make them work better. The corners, the tops of the cupboards – beautiful."
For her, she says, the kitchen simply feels natural. "The kitchen to me feels like it's always been here," she says. "I've been dreaming and planning it for such a long time. It's as if it's always been here."
You can book a free design appointment with Cash & Carry Kitchens today, at any of their 15 nationwide showrooms. With a reputation built on quality, trust and expertise, Cash & Carry Kitchens are with you all the way – from the first conversation, to seeing your new kitchen installed by trained fitters. To start your journey and book a free consultation, visit cashandcarrykitchens.ie or call 1890 92 92 26.
For expert advice, design inspiration and more real kitchens, start exploring the Cash & Carry Kitchens Hub today.