Renovations to your kitchen significantly increase the value of your home. 
Are you planning on remodeling your kitchen? If so, you are most likely wondering where to begin.
There are many things of taking on such a project, but if you plan it step by step to do, you can avoid being overwhelmed and over budget. You have plan to pay for it.
Let's take a look of these great tips for turning your kitchen remodel into a journey that ends with the kitchen of your dreams!
1. Smart Planning & Organization
Smart planning is crucial things before you begin remodeling your kitchen, determine how and where you will use your kitchen items.
By having a good understanding of how you want your kitchen items to be organized around your larger appliances, you can better plan for the type of storage you will need.
For example, your silverware will likely go in a drawer, while your bowls and plates will go in a cabinet.
2. Budget
After successful planning you need to you need to consider your overall budget. This will help you get idea about on which items you may have to upgrade on priority and other aspects you may need to hold back on.
There will be many elements that go into remodeling your kitchen, so speaking to an experienced, professional kitchen designer is a great way to start. It will helps a lot to avoid overspending money on unnecessary things.
All aspects of the space will be discussed, including layout, flooring, cabinetry, countertops, lighting, etc.
You will feel assured knowing wherever your money are going to be best spent and you'll even discover new concepts that you simply hadn't previously considered.
3. Layout
if you are like most homeowners, you will probably start your kitchen project by thinking about the color scheme or appliances. However, if you're a professional designer, the first thing you will think about is the kitchen layout.
The Work Triangle should be in place to make the best use of your kitchen.
The three most important elements of your kitchen design are the stove, the refrigerator, and the sink. The Stove, Refrigerator and Sink are the 3 most important element in the kitchen design.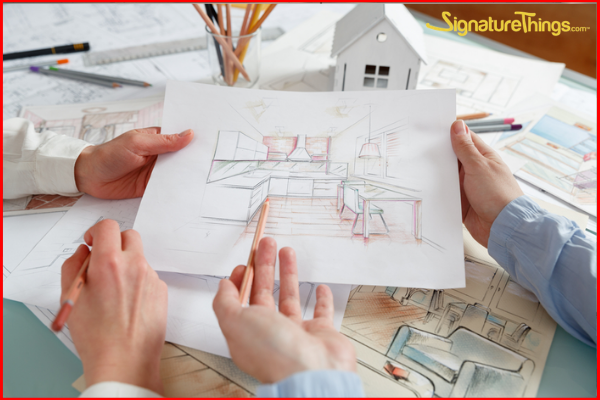 A good kitchen layout will allow you to move easily between the three while cooking. a kitchen designer will create a "work triangle" between the stove, refrigerator, and sink that is typically angled between 15° and 25°.
It should also provide enough space so that if you are cooking alongside someone else, you won't constantly be knocking into each other.
4. Storage
When it comes to storage, you need to determine your cabinets and pantry space. What is the best option for your unique situation? Do you have a large family and cook often? If so, you probably have a lot of dishes, pots and pans, which means more cabinets. You'll most likely also need a pantry to store dry goods.
If you live alone or have a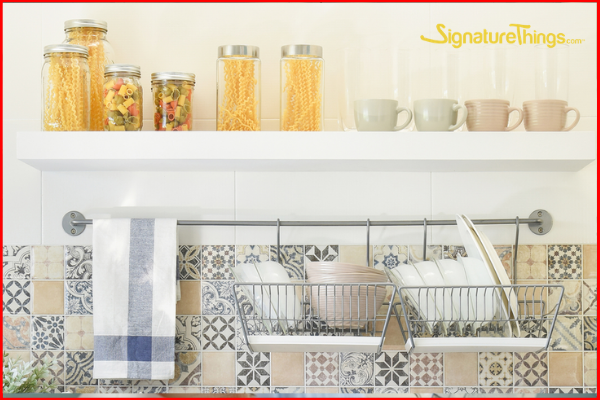 5. Lighting
When designing a modern kitchen, one of the most important aspects is lighting. The right lighting solution can do so much for your kitchen; from helping you see, to adding design elements and creating a mood.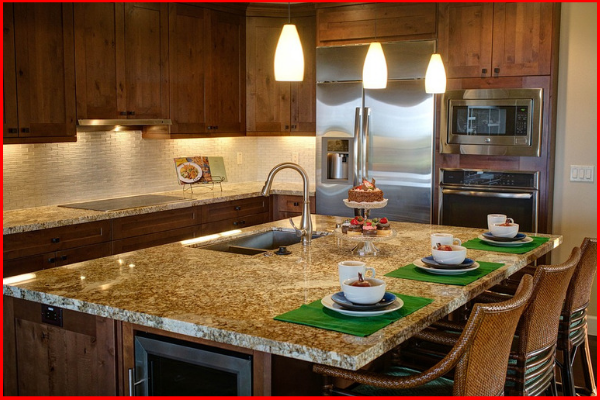 Bringing in as much natural light as possible will brighten up the space and make your kitchen feel more open.
You may want to install additional windows if needed or make existing windows larger.
Light Fixture Also another option for you.  If you are spend a lot of time in kitchen you should include bright task lighting overhead. Recessed lights or contemporary pendant light over an island or peninsula also great choice for kitchen which counter is open from above.
6. Island Functionality
Kitchen islands serve a number of purposes. In addition to being a visual anchor in the space, they also help increase the room's functionality and efficiency. by using an island to significantly increase the amount of counter space in your kitchen.
Having more counter space adds obvious benefits: more room for meal prep, multiple chefs and can serve as an eating area.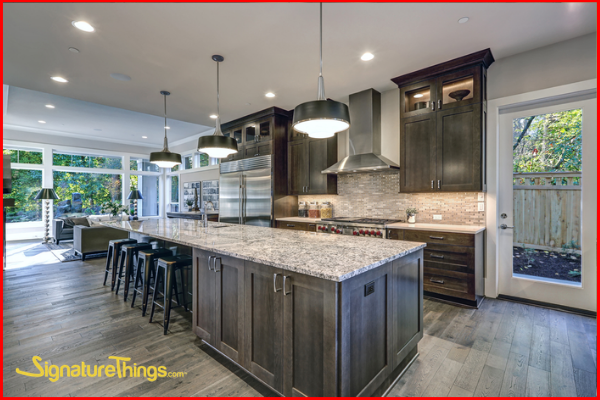 7. Pot-Filler
If you do a lot of cooking, adding a pot-filler over the stovetop is a great idea. Installing a pot filler above your stove that swings out or has an extra-long hose on the faucet can help you avoid carrying heavy pots filled with water to the cooking area from the sink.
Pot fillers enable you to fill containers directly on the cooking surface.
Pot fillers are a desirable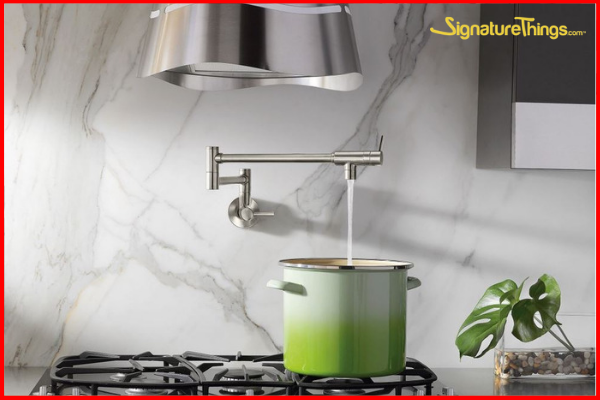 Some Bonus Tips:
1. Sometimes Small Changes Matter Most ( Cabinet Hardware )
Designing a new kitchen or updating an existing one can be a great experience, and one of the most fun elements of the planning is exploring kitchen cabinet hardware ideas. 
When you're choosing cabinet hardware, think about the number of times you'll touch these pieces every day. If your cabinet pulls look and feel good and function well, you're sure to derive pleasure from them
Browse our premium collection @ SignatureThings.com, from modern Cabinet Pulls to traditional Cabinet Knobs. Simply replacing your cabinet hardware is the easiest (and cheapest) way to spiff up a kitchen. Get started here.
2. Think Sharp for Storing Knives
Design a place just for knives. Having an organized knife storage makes it easy to locate the best knife for a job and keeps dangerous items out of the reach of children.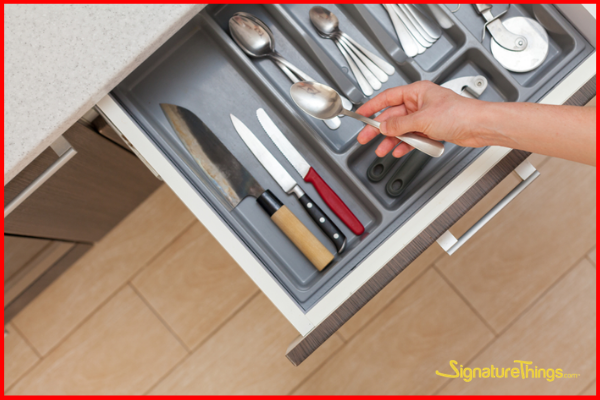 3. Easy Reach
It is important to set up your organization depending on everyone's needs. For example, put your child's favorite snack foods on shelves or in drawers that are within reach.
If you have very young kids running around, you may want to design your new kitchen so more dangerous items, such as alcohol, cleaning products and sharp objects are all stored high above their reach.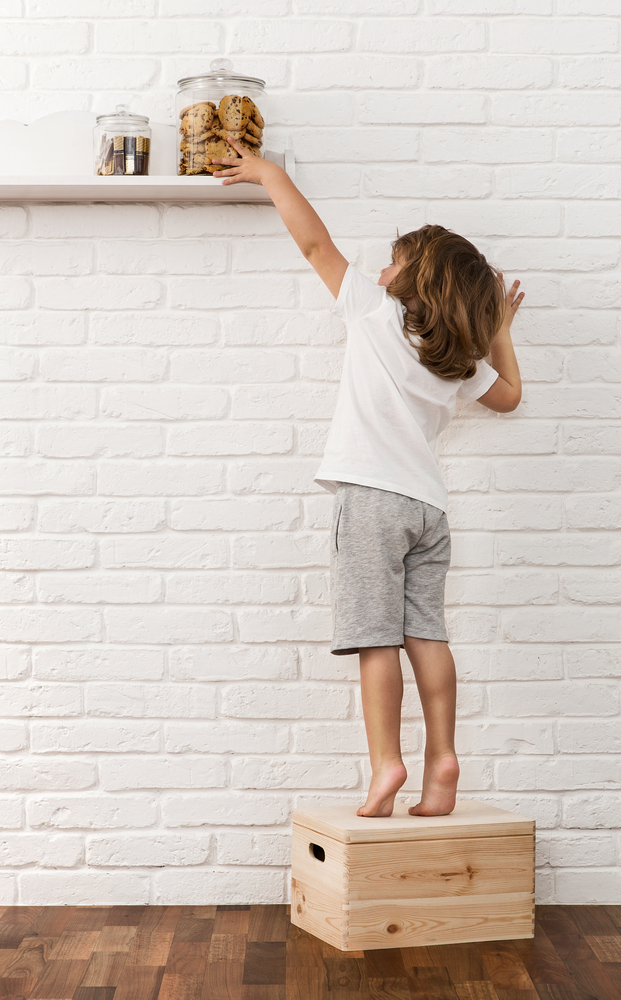 Also, consider your cooking habits when deciding on your organization. If you know that you'll be using certain pots and pans often, try to place your pot and pan storage near the stove top.
4. Open Shelving in Kitchen
One of the easiest and most cost-effective ways to update your kitchen is to nix some upper cabinets and replace them with shelves instead.
Whether you're budgeting for a full-scale remodel or you just want a small update, these kitchen shelving ideas will help steer you in the right direction. We have superior collection of Brass Shelf Brackets and other Shelving Hardware. Browse Now SignatureThings.com.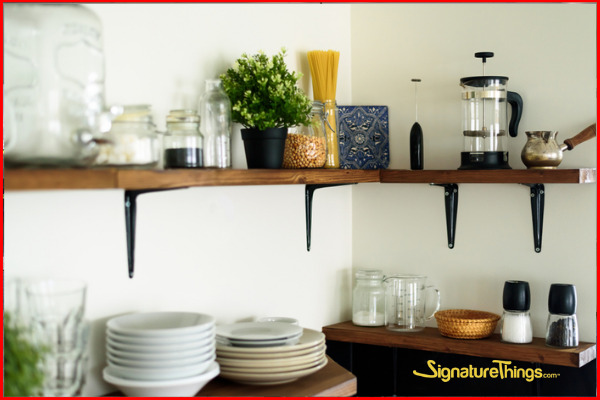 Conclusion
Considering each of the points above should help you on your way to creating the kitchen you have always dreamed of.
You will not only be thrilled with your updated space, but you will increase the value of your home as well.
For further reading 7 Quick And Easy Bathroom Decorating Ideas